Sobre el caso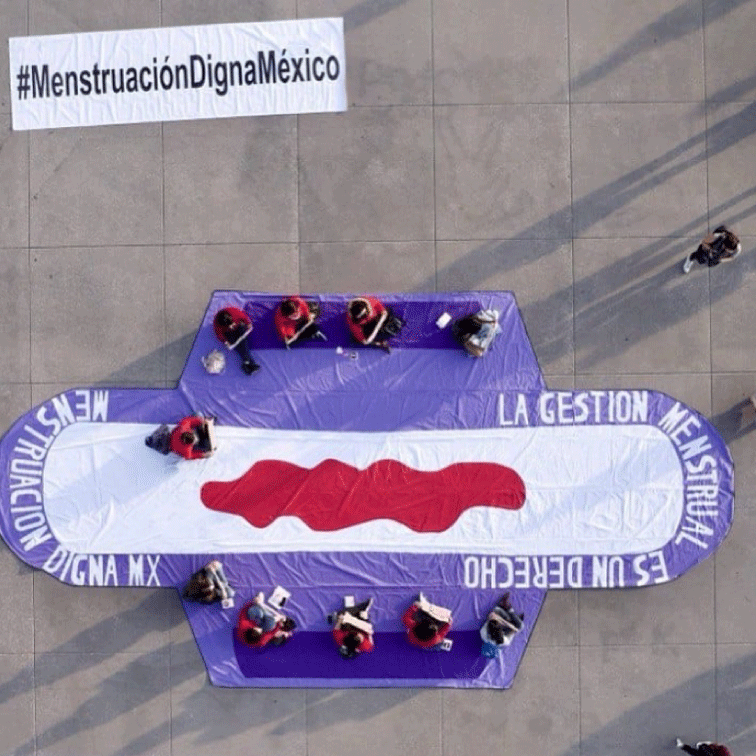 Desde 2019, la colectiva #MenstruaciónDignaMéxico coordina una campaña que tiene como objetivo eliminar el IVA a los productos de gestión menstrual en México, conseguir la gratuidad de productos menstruales en escuelas y de promover la investigación en el tema de la menstruación y la pobreza menstrual en el país. Entrevistamos a Anahí Rodríguez, una de las fundadoras de la colectiva. 

In 2019, period brand einhorn and the magazine NEON launched an additional petition to the Petitions Committee of the German parliament. This petition reached the necessary 50,000 signatures, so the Petitions Committee invited einhorn and NEON to discuss the issue of reducing VAT on period products to 7%.
¿Cuándo comenzaron con la campaña y cuál fue el motivo?

Menstruación Digna empezó en 2019. En este momento coincidieron varias cosas. Primero un compañero de trabajo de Colombia me contó de la experiencia que tuvieron allá alrededor de la eliminación del IVA a los productos de gestión menstrual. Y yo me dije "Cómo que estamos pagando impuestos por menstruar?" Al mismo tiempo, estaba participando en el primer "Parlamento de Mujeres" de la Ciudad de México, en el que personas de la sociedad civil podían presentar iniciativas de ley con perspectiva de género. Entonces hablé con una compañera, Melissa Guerra, y decidimos presentar una iniciativa en torno a la menstruación. Así comenzó, este movimiento.

#MenstruaciónDignaMéxico trabaja como colectiva. ¿Puedes explicarnos un poco como se encontraron?

Melissa y yo estuvimos muy apasionadas con el tema. Nos preguntabamos por qué nadie trabajaba ya en esto. Entonces contactamos a otras organizaciones. Al principio casi nadie veía la importancia del tema. Pero continuamos insistiendo y en diciembre de 2019 nos encontramos con la entonces diputada Martha Tagle que nos ayudó a presentar nuestra primera iniciativa: exigir los productos menstruales gratuitos en las escuelas. Y de ahí, más y más organizaciones les empezó a interesar el tema. Comenzamos a trabajar con el hashtag #MenstruaciónDignaMéxico porque queríamos visibilizar el tema en redes sociales, en medio de la coyuntura de las restricciones por COVID-19. Hoy en día la colectiva consiste de unas 30 organizaciones. Nos ayudó mucho que de repente fue muy normal trabajar en lo virtual, ya que eso nos permitió reunir personas de todas las regiones del país. Ahora nos organizamos alrededor de cinco ejes de trabajo: eliminación del IVA, gratuidad de productos, investigación, educación y comunicación.

¿Cuál fue su estratégia? ¿Cuáles fueron las actividades claves?
Primero empezamos a socializar que pagamos un impuesto por menstruar que los hombres no pagaban, lo cual era injusto. Después realizamos conversatorios en donde explicamos el por qué esto nos discriminaba. Presentamos la iniciativa para la eliminación del IVA por primera vez y por último se metió una acción inconstitucional en la Suprema Corte de Justicia de la Nación en donde se argumentó que el IVA era discriminatorio y lanzamos un llamado a la sociedad civil para que pudieran meter pruebas que sustentaran esta discriminación.

¿Cuáles fueron los hitos clave de la campaña?
Para mi, el primer hito fue en junio de 2020, cuando por primera vez se subió a la tribuna de la Cámara de Diputadas y Diputados una ley para pedir la gratuidad de productos menstruales. Desde ahí nos empezaron a conocer como colectiva. La segunda sin duda fue el momento en que rechazaron eliminar el IVA en 2020. Aunque no se aprobó, los medios empezaron a hablar muchísimo más de la menstruación y de la gestión menstrual. El tercer hito fue este año, cuando el Estado de Michoacán aprobó proporcionar productos de gestión menstrual gratuitamente en las escuelas. Eso fue nuestro primer avance real en iniciativas de ley y de ahí empezó toda una ola roja que nos llevó finalmente a la aprobación de la ley que eliminará el IVA a partir del 2022.

About the case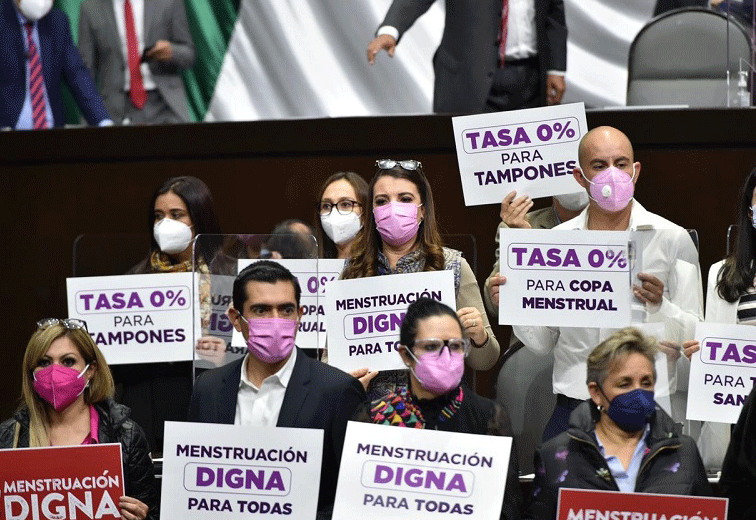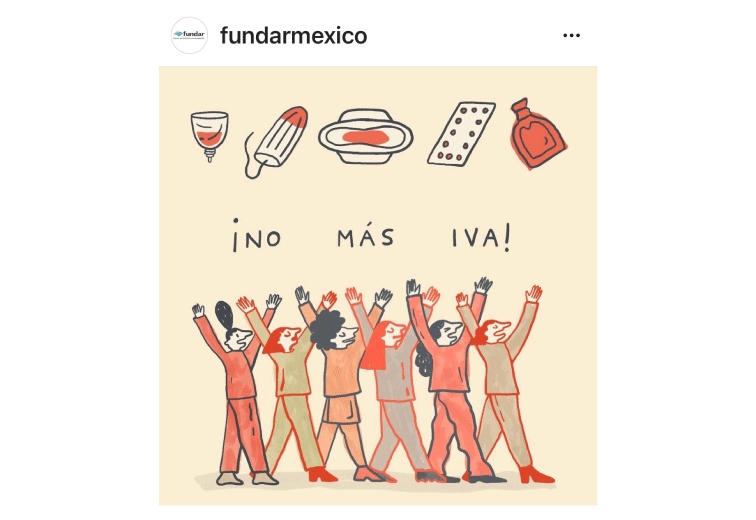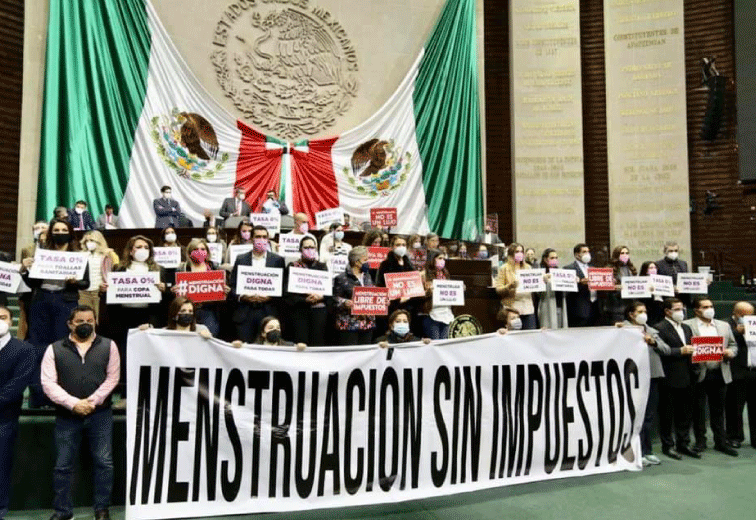 "Following on our extensive consultation with the civil society (...), I wish to announce that the supply of sanitary pads will be VAT zero-rated to enhance affordability by the girl child. I urge suppliers and retailers to pass on this relief to consumers once enacted,"

Extract from the Minister of Finance - Ipumbu Shiimi's FY2021/22 Budget Statement
¿Cuáles fueron los contragolpes más frustrantes de la campaña y cómo reaccionaron como colectiva?

Te puedo citar tres cosas que realmente no funcionaron bien. Empezó con la página en Facebook que abrimos. Como al principio no teníamos personas seguidoras, queríamos promocionar un conversatorio usando los Facebook ads. Pero como nuestro elemento visual en el anuncio era un tampón, una toalla y una copa con sangre, Facebook nos baneó. Entonces, nos tocó cambiar los anuncios para los primeros eventos (ya no incluímos sangre) hasta que tuvimos suficientes personas seguidoras y ya no necesitábamos pagar anuncios en Facebook.
‍
Lo segundo fue una ola de comentarios negativos en los medios sociales cuando habíamos utilizado el término "mujeres y otras personas menstruantes". Nosotras  decidimos que no vamos a ceder ante de eso, porque para mí como feminista es importante no dejar atrás a nadie. Decidimos no responder individualmente a los mensajes negativos, sino publicamos un post en el que explicamos nuestra manera de pensar. Al final, ese episodio nos trajo muchas seguidoras nuevas que estaban de acuerdo con nosotras. 

Lo tercero que nos pasaba mucho es que otras personas se intentaban apropiar la iniciativa e invisibilizar nuestro trabajo. Aprobaron la ley y después salieron a decir que ellas lo habían hecho. Varias diputadas dijeron que la propuesta había sido de ellas. Entonces pusimos un tweet pidiéndoles que reconozcan que esta iniciativa nació de la sociedad civil. Esto era importante por todas las que estamos en la colectiva.

¿Cuáles son tus consejos más importantes para otr@s activistas? 

Cree en ti y en tu objetivo. Eso es lo básico. Siempre va a haber personas que van a demeritar tu movimiento. Va a haber días en que no puedas más del cansancio. A mí me ayudó mucho recordar el por qué, que eso va a cambiar la vida de las personas y tenemos que hacerlo.

Forma una red de apoyo alrededor de ti, fuera de la colectiva. Necesitas personas que cuiden de ti y abonen a tu estabilidad mental.

Define cómo puedes complementar con tu aportación el trabajo que se está haciendo sobre el tema. Es importante analizar cuál es el enfoque de tu trabajo y qué no lo es. Por ejemplo, a nosotras nos llegaban muchos que querían donar productos. Pero nosotras decidimos que eso no es lo que vamos a hacer, porque ya hay otras organizaciones que hacen esto y lo hacen muy bien. Así que nos inclinamos por la incidencia legislativa.

Observa lo que está pasando en otros países. Lo que pasó en Escocia, en Argentina o en Colombia nos sirvió a nosotras para refinar nuestras estratégias. A cambio, nosotros ayudamos a la gente que nos contactó de Guatemala o de Honduras.

Tienes que aventurarte a pedir cosas, a hacer conocida tu iniciativa. A lo mejor recibes diez veces un "no", pero en algún momento vas a recibir un "si". Lo importante es que se va dando a conocer la campaña, aunque al principio no tengan ningún contacto que te apoye en la política o en la sociedad civil, poco a poco vas encontrando personas que les apasione el proyecto.