About the case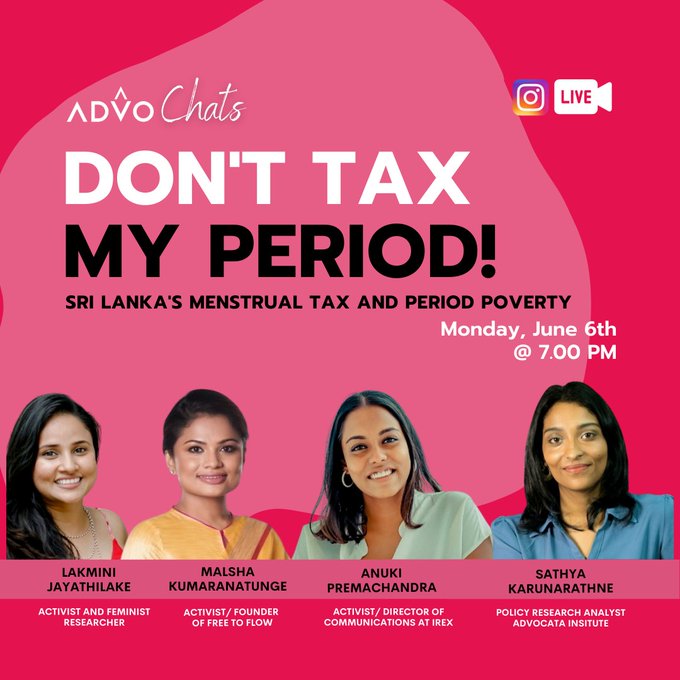 Over the last few years, Advocata Insititute and their allies have advocated for the removal of the very high tariffs in Sri Lanka. 

In 2019, period brand einhorn and the magazine NEON launched an additional petition to the Petitions Committee of the German parliament. This petition reached the necessary 50,000 signatures, so the Petitions Committee invited einhorn and NEON to discuss the issue of reducing VAT on period products to 7%.
Can you share some background on the current tax situation for menstrual products in Sri Lanka?
There had been a steady revision to the overall tariff.
Earlier it was 101%, it then came down to 62%. Later it was reduced to 52%. In May 2022, the general duty of previously 15% was removed. This brought down the tariffs to 42%, which is still high! And, because of the high tariffs, the economic crisis, and the dollar shortage, it's hard to find any imported products and they are quite unaffordable. Currently, there is only one product (Whisper) that comes into Sri Lanka.
Domestic producers raise their prices to match the imported goods and create supernormal profits. Profits that they shouldn't make at the expense of menstruating women and girls.

What is the aim of your campaign?

The aim of the campaign is that border tariffs should be removed, and it should allow more imported items to enter market to ensure affordability and choice in terms of products and prices. We simply want the market to function without this excessive protection of local companies making supernormal profits.

What was your campaign strategy?
This campaign started within Advocata four to five years ago and it took off. We formed many alliances, did our research, and lots of people joined the campaign. It is everybody's cause now and that's great. That's how you embark on policy reform.

Can you share some highlights of the campaign?
Looking at the continuous tax reduction, the campaign had a massive role to play. In 2019, we had a presidential candidate whose biggest campaign promise was to eliminate the tax and to distribute products free of charge. For us, it was a huge win for a presidential candidate to express commitment to bring policy change in a country where menstruation is hardly talked about, especially by a male candidate. Yes, he got backlash. This was largely from women, which was disheartening. Women who are not as liberal and very conservative made statements such as: "Men should not speak about menstruation, it has nothing to do with politics". But it has everything to do with politics: affordability, availability, trade policy, economics, protectionism. Unfortunately, he was not elected.

From the overall campaign, small sub-projects arose. For example: activist and politician Malsha Kumaranatunga has an initiative that gives away free
The Arka Initiative brought a period pad production machine from India and gives out raw materials on a subsidised rate. They also hand out pads free of charge in rural Sri Lanka.

About the case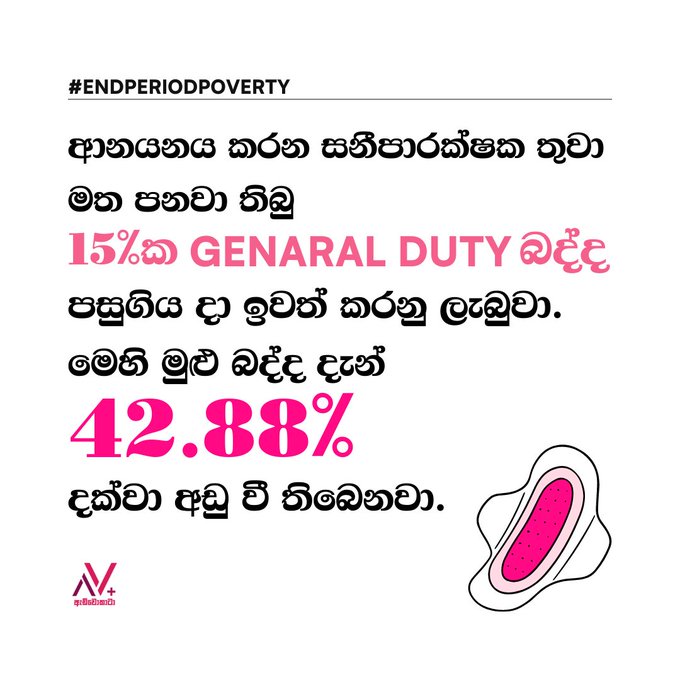 Sri Lanka's tax system makes imported products very expensive: 

Value Added Tax (VAT) stands between 0 to 15 percent and is charged on all items produced in or outside Sri Lanka.  For imported items, an imputed profit margin of 10 percent is added to the import price. There are three import tariff bands: raw materials are at zero percent, intermediate goods are at 15 percent, and finished goods are at 30 percent. In addition, there are supplementary taxes for a wide range of items: 
- The Export Development Board (EDB) or also called CESS levy ranges from 10 percent to 35 percent on a range of items identified as non-essential or as competing with local industries
- Ports and Airports Development Levy (PAL) is also applied on most imports with tariffs ranging from 5 to 10 percent.

‍Source: https://www.trade.gov/country-commercial-guides/sri-lanka-import-tariffs-and-taxes
What are the next steps for your campaign?

We are making progress. It is very slow, but we are making progress. We'll keep talking, writing reports, mobilising people and championing for this reform. Our work will continue to remove 10% Ports and Airports Development Levy (PAL) and the 15% CESS. It could be great if Value Added Tax (VAT) could be removed but given that Sri Lanka is in a difficult economic position, we need our revenue.

The majority of our team is female. Because we experience menstruation first-hand, this is very important for us, and we are very passionate and optimistic. We want the system to change! 

What are your top five tips for other campaigners?
Identify the policy issues that impact women and any other reform that you see is needed in your country.

Do solid research and compile the most salient facts. Identify the problem on a policy level, who your stakeholders are and what the reform should be.

Contact experts. We reached out to experts on tax, tariffs and trade, policy makers, policy implementers. It's essential to bring relevant stakeholders together.

Then start your advocacy. Wait until you have your story and your facts straight to start your advocacy. Having all of this in place will enable people to gain confidence in you and the organisations you are involved with.

Choose the appropriate tools and channels depending on the demographics you want to reach. Consider a range of mediums such as video and posts, or more traditional methods such as panel discussions? Instagram and TikTok are effective in reaching younger audiences.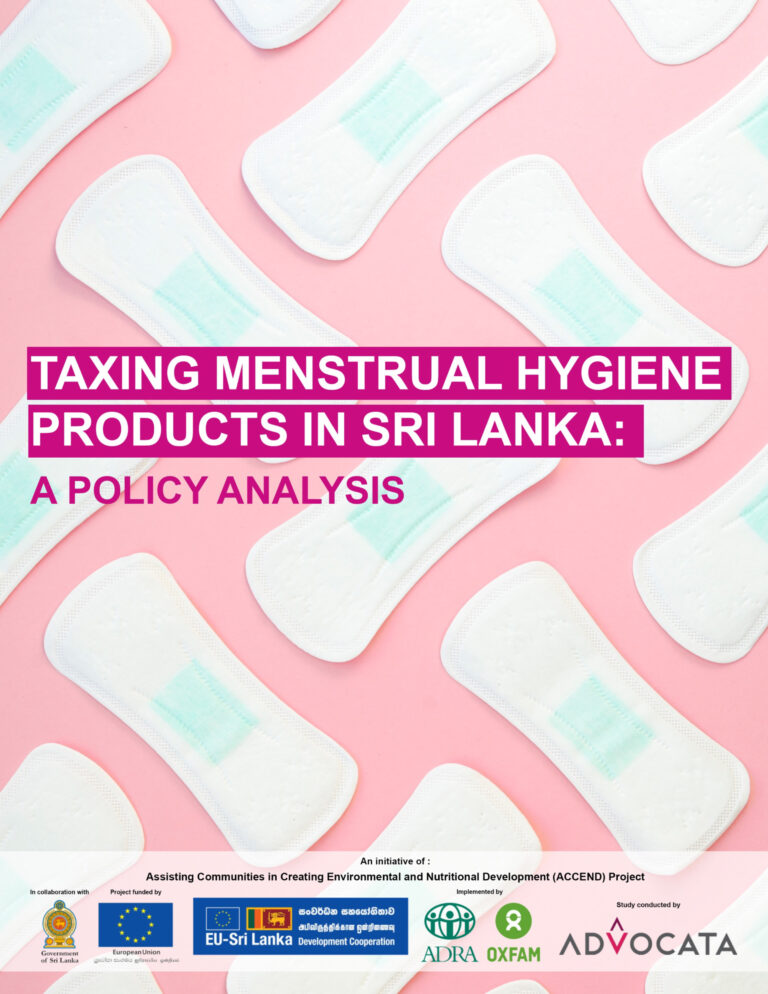 More info
Taxing menstrual hygiene products in Sri Lanka: a policy analysis, Advocata (2021)
Don't tax my period: Activists discuss taxing period products in Sri Lanka and its implications on women and girls
The cost of being a Sri Lankan woman: Menstrual hygiene is very expensive ‍